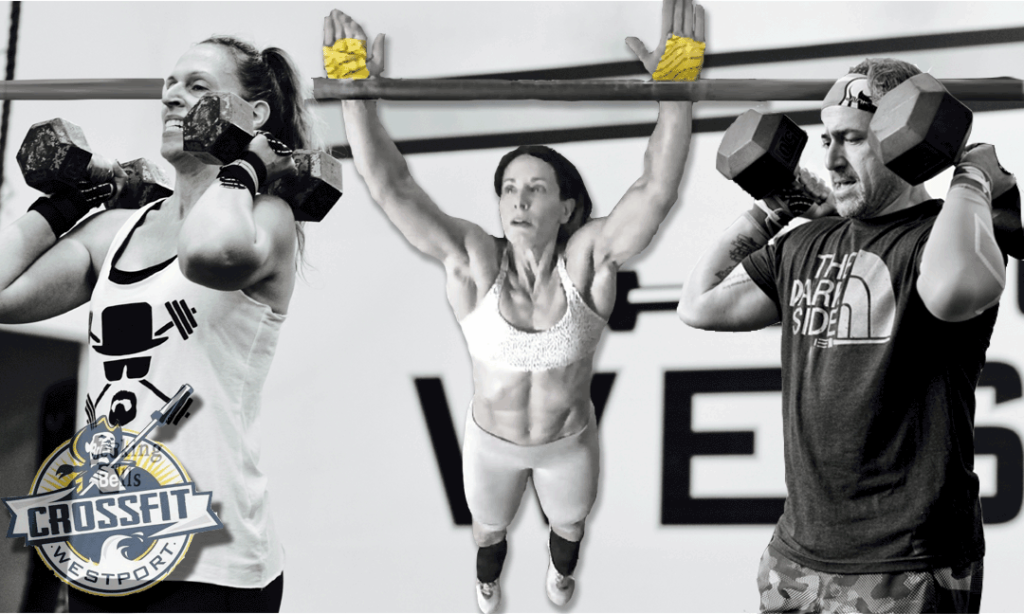 (raw photo credit: Irene Penny Photography)
This month's Athlete Spotlight is Amy "Pistol" Mandelbaum. Amy was one of the first athletes who gave WOD&DONE brand a chance and helped us spread the word. So, it's not a surprise that we wanted to share her story in our bi-weekly Athlete Spotlight series .
Name: Amy "Pistol" Mandelbaum
Age: 49 (50 in May)
City/State: Westport, CT
Favorite movie / character: The Matrix, Trinity – of course!
CrossFit Affiliate Name: CrossFit Westport
Favorite lift: Clean
Favorite Girl WOD: Helen
Least favorite / Weakness: Amanda
Amy started doing CrossFit over 7 years ago with no athletic background prior to that. Her fitness consisted of random interval, boot-camp style classes and spin classes. That's when a friend suggested that she  give CrossFit  a try. "It took one class and I was hooked. It was a complete departure for me in terms of physical challenges" – Amy said.
She has competed in every Open since, been on two Regionals teams 2011 & 2012, competed at the Games as a masters athlete in 2012, 2013 and 2014 and earned a spot at the 2015 Games, but had to withdraw last minute due to a family emergency and  took 2016 off to dedicate to her daughter, who was auditioning for musical theatre programs, and to give time to the development of CrossFit Westport.
When asked about her current training, Amy responded:  "I now train five days a week with my coach –  Jay Leydon. I am training to get back into the Games and after a year-and-a-half hiatus. It's been a process to get my head back into the competitive mindset. "
Two years ago, Amy, along with her husband David, set out on a venture to open CrossFit Wesport in their hometown of Norwalk, CT. To date, their box has over 180 members and they are still growing. They operate a 6000 sq ft facility that runs seven classes per day. With other business responsibilities, as well as being active in her family, Amy still finds time to teach 1-2 classes every day. Here is what she had to say about how it all came together.
Name of the Box: CrossFit Westport (crossfitwestport.com)
Location: Norwalk, CT
Year of Affiliation: Two
Owner (s): Myself and my husband, David
Aprox Membership base: (optional) 180 and growing!
Coaches: #? Names? (optional) Including myself, six
Size (sq.ft): Just under 6000 sq ft
Tell us how it all started:
"I had been a coach and competitive CrossFit athlete for many years and had a vision of what I wanted to create in a strong community. I knew that my life as a competitor needed to slow down but that I wanted CrossFit to be a part of whatever "next chapter" I was going to write for myself. It was my husband, David, who presented me with the opportunity to own my own box. I jumped at the idea without a second thought. With his support and my incredible coaches, we have created an amazing environment for our members."
Tell us more about your box:
"CrossFit Westport is a health, fitness, and lifestyle gym. We are not a competitive box, though we have a number of terrific athletes. We are very welcoming to both the experienced CrossFitter as well as to those who are trying it for the first time. You come to us to work out in a safe, well-organized and fun environment. Our members work to reach and surpass their goals and we aid them in those achievements. In my view, this is all about the journey and there is so much that can be attained by finding physical strength and conquering your fears. Our members are moms, dads, grandmothers, grandfathers, young professionals, teens, you name it. We have a very community-minded diverse membership. We believe in giving back so we raise money for charity, we support our local community and we have an amazing teen sports program that supports our local high school. We are a very social box and enjoy each others company both in and out of the gym. We view our incredible staff as family as well and fully support them in their own development. In short, we are a place to come find your best self and great friends."
What is the one workout YOU KNOW if you program you'll get the most amount of complaints?
I don't generally get complaints about workouts. I try very hard to listen to my membership and challenge them appropriately. So if I hear rumblings of sore shoulders, for instance, I will take that into consideration as I program or I will change programs on the fly to accommodate the feedback I get from my coaches. Our members are not generally whiners, so when someone voices a concern, I take it seriously.
As an owner, what did you learn about yourself and how have you evolved personally and in the business sense since you've opened up?
Owning a box has challenged me in ways I could not have predicted, but it has also given me a great perspective on how, as a coach, I can positively impact others' lives. I wake up every day happy to go to work. I have learned to be a very good multi-tasker. Additionally, being responsible for such a large group of people dilutes my focus in a positive way. I am not so focused on the minutia of everyday life in the gym, so I let go of things that in the past, would have really bothered me. As a result, I feel very present both at home and at the gym.
When asked about her short and long term goals Amy said: "My longer-term and always-present-goals sort of blend: to maintain a healthy family life, be with my kids as much as possible and to nurture and grow my membership at my gym – CrossFit Westport. The best I can say is that my long term goal is to age in as healthfully a way as possible, and continue to help others live a healthy life along the way". We would like to wish Amy an injury-free and successful competition season as well as to continue running a successful CrossFit gym while helping others achieve their goals.