Grace Avery – Future of our Sport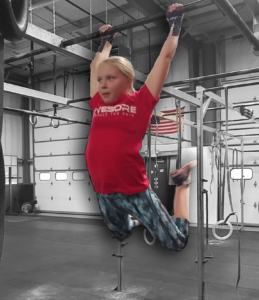 Name: Grace Avery
Age: 11
City/State: East Bridgewater, Massachusetts
Favorite movie: Pee Wee's Big Adventure
Favorite television show: SpongeBob SquarePants and WWE
CrossFit Affiliate Name: Cynergy CrossFit
Favorite lift: Clean and Jerk
Favorite Girl WOD: Grace, of course!
Least favorite/Weakness: Squat snatch, muscle-ups, and ring dips
With the incredible athletes who have framed today's CrossFit world, it is important to remember the generation of future athletes who will succeed them. At 11 years of age, Grace Avery promises to be a prominent future contender.
Grace comes from a large family and is the youngest of five siblings. In addition, she has two dogs, Brady and Hope, and a mouse named Oreo. Her mother is a nurse and her father, who inspired her to enter the CrossFit world, is a firefighter/paramedic.
Grace's journey into CrossFit began six years ago. When she was younger, Grace would watch her father perform first responder challenges and would often join alongside him. This sparked her interest, and soon after, her parents enrolled her in a CrossFit Kids program. Now, Grace currently trains with the adult programming four times per week with different coaches.
Far from being inactive, Grace is engaged in an array of activities outside of CrossFit, and especially loves basketball, soccer, and football. Currently, she plays Amateur Athletic Union (AAU) girls basketball, where she has a tournament each weekend throughout the spring season.
With years of experience under her belt at 11 years of age, Grace has already competed in multiple events in the New England area, at the RUFIT Festival in Virginia Beach, and at Wodapalooza in Miami. This is only the beginning of Grace's resume, as her goal is to compete in the CrossFit games in the next five years and be dubbed as the "Fittest on Earth" in ten years.
Grace's main focus is to always improve herself while having fun in the process. Fortunately, she has many sources of inspiration to draw from. Her parents certainly provide no shortage of inspiration for her. She also looks up to her older brother, Derek, who is currently serving in the U.S. Navy. In the CrossFit world, there are a number of athletes who she looks to for motivation to keep doing her best, and she is thankful for the opportunity to have met and trained with them.
In addition to her fitness aspirations, Grace looks forward to a college career at the University of Connecticut. Here, she hopes to earn a degree in fitness, which will arm her with the tools to become a successful trainer and to someday own a CrossFit box of her own.
Watch out, because after she becomes the "Fittest on Earth", Grace may one day be in the WWE ring to become the fiercest.